Welcome to the Never-Ending Panel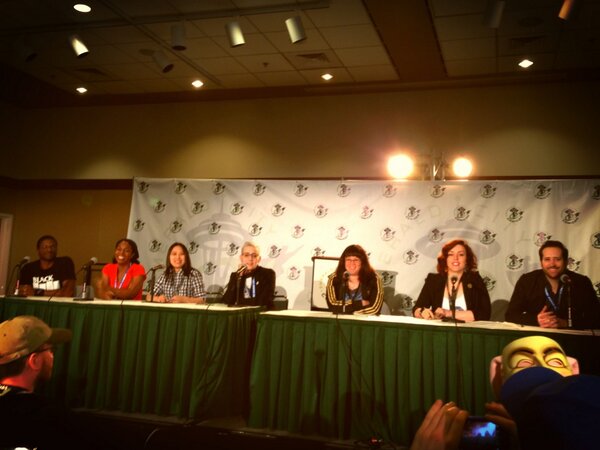 Last weekend, we debuted a panel called "Looking Past the Target Audience" at Emerald City ComiCon. We talked about gender, race, sexuality, ethnicity, disability, and intersectionality; geek identity politics; creative, representational, and fan diversity; backlash and progress; in comics, video games, movies, and more.
And then we ran out of time, because 55 minutes is nowhere near enough for seven people with seven very different perspectives to cover a topic as broad and thorny and complicated and rich as this one. 55 hours would still be spotty.
After the panel, we talked a lot about what we hadn't covered, and about the fact that we all believe that this is a conversation that needs to be ongoing—in and out of conventions. So we decided, fairly literally, to keep the panel going: live at any con where we can get it approved, and here on Tumblr in the meantime.
We're going to start by answering some of the tweeted questions we didn't get to address during the ECCC panel, and work outward from there. If you've got additional questions, please toss 'em our way.
Likewise, if you're a convention interested in hosting this panel (or a variation on it), or looking for advice on improving the intersectional diversity of your programming, we'd love to hear from you.
We are:
David Brothers
Regina Buenaobra
Cheryl Lynn Eaton
Rachel Edidin
Andy Khouri
Sarah Kuhn 
Kate Welch
Photo by @chrissypedia. Used with permission.